The APC sales team enjoys face-to-face contact with customers and prospects at the different trade fairs held both domestically and internationally. Below is a list of the upcoming shows where the MarineLINE® and ChemLINE® Coating System will hold a presence and exhibit.
AMPP Annual Conference + Expo, March 6-10, San Antonio, TX.
The 5-day conference joins the former CORROSION and Coatings+ events into the new AMPP Annual Conference + Expo. This newly merged event will feature a robust program of technical symposia, forums, workshops, standards and administrative meetings, student poster sessions, networking events, and a full exposition with a large equipment display.
This inaugural event offers a week of dynamic programming, solutions, and discovery that will bring together customers, partners, and thought leaders. To engage in learning opportunities and more, visit https://ace.ampp.org/home.

Southwest Association of Rail Shippers (SWARS), March 15-17, The Woodlands, TX.
This association meeting will be held at The Woodlands Waterway Marriott Hotel in The Woodlands, TX. This yearly meeting will open with two days of golf benefitting the SWARS Scholarship Fund Golf Event at the Golf Club of Houston and will be followed by almost a day and a half full of courses, speakers, and networking.
For the complete agenda, visit https://www.swrailshippers.com/event/2022-annual-meeting/ .
CMA Shipping Expo & Conference, March 29-31, Stamford, CT.
The 34th annual fully interactive conference is well known for its high-profile thought-leaders and in-depth discussion points. This year, key topics will include State of the Industry, Decarbonization & Alternative Energy, Freight Markets, Digitalization, Finance, Salvage & Wreck Removal, Integrated Logistics, and Finance.
To learn more about this 3 Day Conference, Commodore Gala Dinner, and Free Expo Hall, visit https://informaconnect.com/cma-shipping/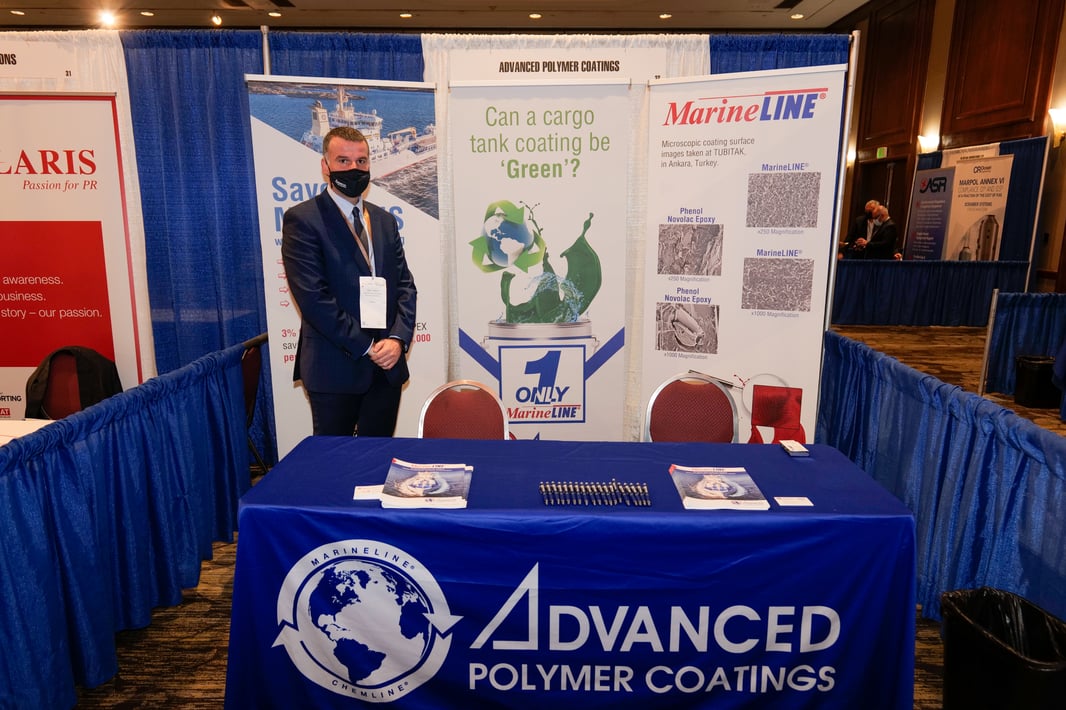 MarineLINE® Global Sales Manager, Captain Onur Yildirim, presenting at last year's CMA Shipping Expo.

NOR-SHIPPING, April 4-7, Oslo, Norway.
The exhibition was forced to cancel the normally scheduled 2021 event that takes place in the summer, and then again postponed to 2022 due to COVID-19 restrictions. The event week is based around Norges Varemesse's 22,500 sq. ft. exhibition halls in Lillestrøm, with seminars, panel debates, conferences, and social gatherings taking place both there and in nearby Oslo. The exhibition hosts more than 50,000 international participants and around 900 exhibitors from almost 50 countries.
For more information on Nor-Shipping 2022, registration, and a complete agenda for the event, visit https://www.nor-shipping.com/.

To learn more about how the MarineLINE® and ChemLINE® Coating Systems by Advanced Polymer Coatings can provide superior chemical resistance and safe transport/storage of your commodities, visit https://www.adv-polymer.com/ and reach out to a member of our sales team.