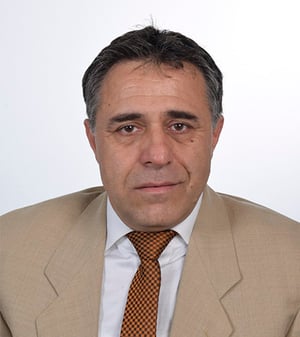 AVON, OHIO, USA, April 2018 – Georgios Mitropoulos, a long-time veteran in the marine industry, has been named as a New Sales Representative for the MarineLine® cargo tank coating system from Advanced Polymer Coatings, Inc. Mr. Mitropoulos will report to Captain Onur Yildirim, APC's Marine Manager.
According to Mr. Mitropoulos, he was first introduced several years ago to MarineLine® while working in South Korea, when he was supervising the tank lining installation for several chemical tankers newbuildings.
For his professional background, he was a Deck Officer from 1988 to 1992 on several Merchant Vessels. He then became a coatings inspector and marine coatings sales representative for ENPLO LTD, from 1992 to 2002. Then from 2002 to 2015 he was named Leader Coating Supervisor for newbuilding projects in South Korea and China, working for Cinner Shipping, N.G.M. Energy, Byzantine Maritime, and Millenia Shipping. Most recently, from 2015 to early 2018 he served as Director Technical / Sales for NanoPhos S.A., a specialty coatings company based in Greece.
In his new role APC, Mr. Mitropoulos' primary sales territory will be covering Greece and its vast shipping market promoting the MarineLine® cargo tank system and its unique benefits to chemical and product tanker owners, and ship operators.
Georgios Mitropoulos is a graduate from the Merchant Marine Academy in Aspropyrgos, Greece. He has achieved a Coatings Inspector Certificate under the requirements of MSC 215 (82), MSC 244 (83), and MSC 288(87), as well as IACS UI SC 223. He also holds a Captain's diploma.
For more information, contact Advanced Polymer Coatings, Avon, Ohio, USA 44011. Phone: +1 440 937-6218. Website: www.adv-polymer.com