Storing and transporting food-grade commodities and keeping up with stringent FDA regulations is an arduous task, mainly due to the aggressive nature of the chemicals being housed.
At APC, we know that you want to be a leader in the Food and Beverage industry. To do that, you need to maintain product purity while protecting your assets.
However, the problem is choosing the wrong tank lining can put your operations at risk.
We understand the importance of maintaining product purity and upholding strict FDA regulations, so we developed ChemLINE® WS (Wine and Spirits) and ChemLINE® AS (Anti-static). Both are BPA Free and FDA Compliant coating systems that have high heat and abrasion resistance as well as unmatched chemical resistance, all while maintaining product purity.
Are you interested in BPA-free food grade tank lining systems to ensure your product purity?
Keep reading...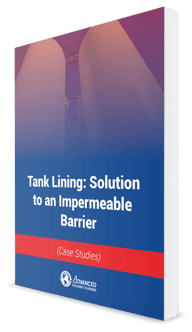 To ensure greater flexibility in the range of chemicals that can be handled by one tank, it is wise to consider a universal lining.
Related content - Tank Lining: Solution to an Impermeable Barrier
Get the PDF version to save to your desktop and read it when it's convenient for you. (No email required):
Food Grade Shipping Containers: Is Your Container Cargo- Worthy?
What is a food-grade shipping container?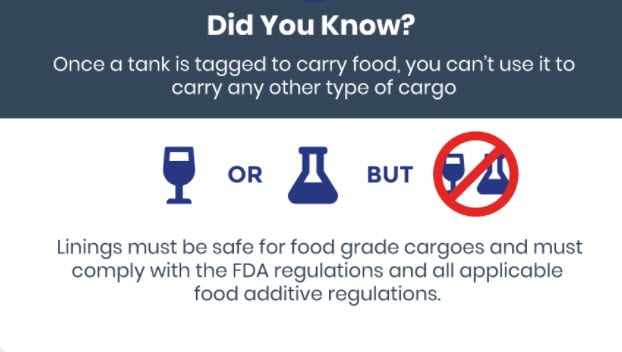 Food is transported in containers globally and requires a particular grade of the container. Meaning it needs to have never transported toxic chemicals. Food grade shipping containers are not as common as standard containers but are available at most ports.
They are high-quality containers that are extremely clean, watertight, and do not produce strong smells, mold, or contamination.
Food grade products require specialized containers to ensure food integrity throughout the whole transportation process. Food shipped globally is a cost-effective way to transport consumable products. Because of the increasing demands of global trade, cargo ships continue to acquire increasingly greater cargo capacity.
Here's a fun fact:
"Some of the largest cargo ships can carry loads of 740 million bananas in 15,000 containers on a single trip. As such, most trade occurs at sea." [source]
As mentioned, most food travels by sea, not by air.
According to Our World in Data, the chart below shows the share of global 'food miles' by transport method.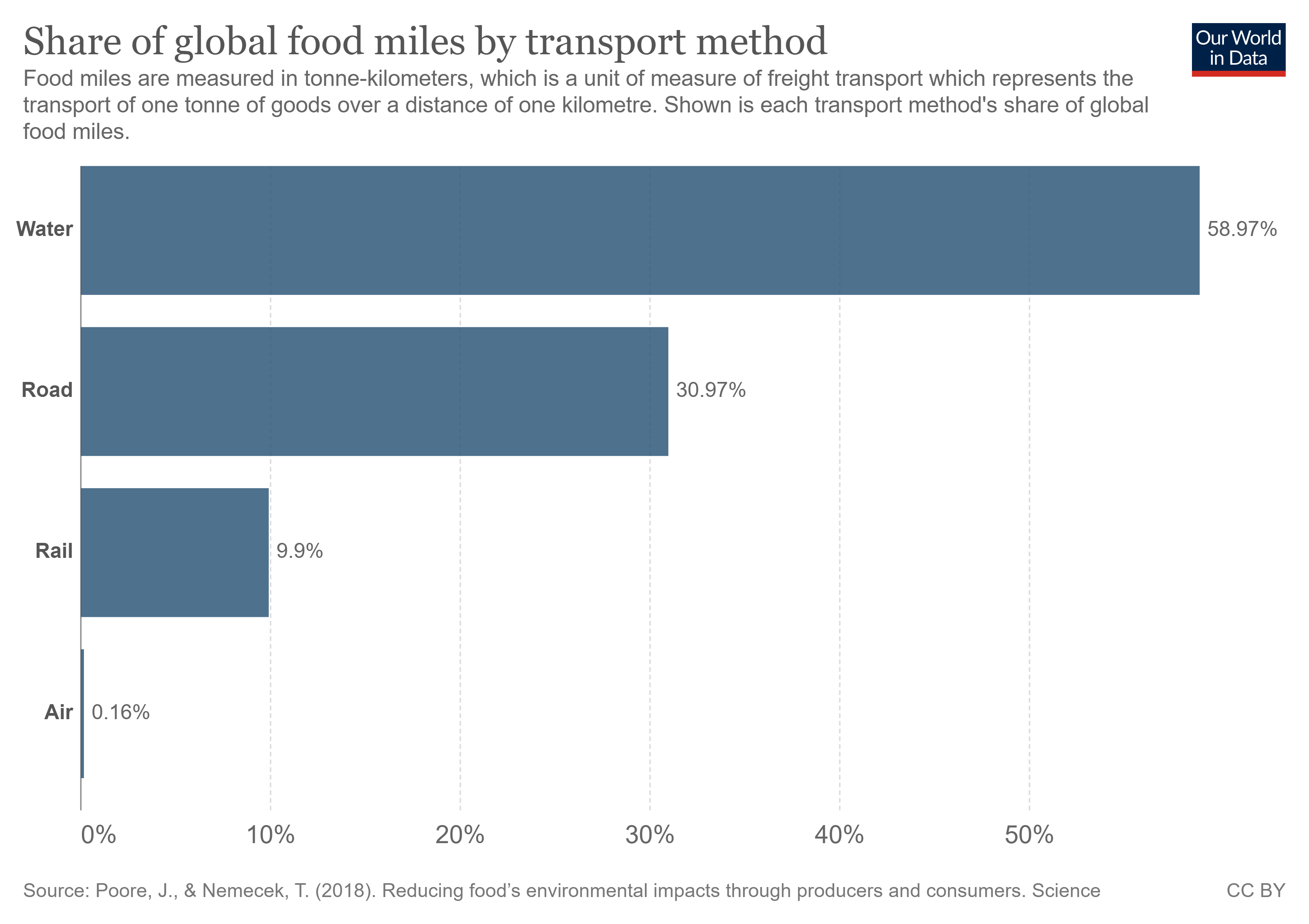 Sources: Poore, J., & Nemecek, T. (2018). Reducing food's environmental impacts through producers and consumers. Science, 360(6392), 987-992, Hannah Ritchie (2020) - "Very little of global food is transported by air; this greatly reduces the climate benefits of eating local." Published online at OurWorldInData.org. Retrieved from: ' https://ourworldindata.org/food-transport-by-mode' [Online Resource]
As an industry, we have been transporting cargo by sea for thousands of years. The modern cargo container used in shipping comes in two types, the Twenty-foot Equivalent Unit (TEU) and the Forty-foot Equivalent Unit (FEU). Both are international standards made to facilitate the transport of cargo.
The tank container market is only getting more prominent and has become an ideal solution for intermodal transportation. Read more on "Why ISO Tank Containers and Linings are Essential."
Moving on...
What is considered to be "food container cargo worthy"? The following section takes a look at food storage container grades.
Food Container Grades/Guidelines
The transportation of food sets requirements for the shipping container:
It has never carried or transported toxic chemicals.

The food does not come in direct contact with the container.

The structural condition must be

IICL-5 (International Institute of Container Lessors) and with a valid CSC (Convention for Safe Containers) Plate. Essentially, the IICL has created a standard of inspection that ensures that an ISO Storage Container is in adequate condition to be long-term leased for cargo transportation. IICL-5 standard is regarded as the most stringent. The CSC goal is to "formalize international safety requirements for structural design and consistent inspection and maintenance of cargo containers."

Scratches must not exceed 2mm in depth.

Waterproof




No daylight visible

It must be a special-grade container.
Cargo-worthy containers have been inspected and carry a damage-free certification.
Shipping container grades are based on both external and internal conditions (structure and aesthetics). A container could be structurally sound for shipping purposes but may have rust and paint degradation, causing it to look unsightly.
Here are guidelines from Boxman, a container provider, with the basic container conditions used in the shipping industry. Aesthetic conditions are used to describe the cleanliness and visual state of a container. Example containers include food-grade, furniture, general and industrial quality.
Food Grade - must meet the highest standard of internal cleanliness
Furniture Quality - also very clean container that won't markup the cargo
General Quality - some rust may show, and scuff marks are common
Industrial Quality - more widespread rust and marked up
Guidelines for Grading Container Condition
Shipping container conditions change throughout its lifecycle. They can be noted as premium or IICL (International Institute of Container Lessors) containers, CW (Cargo Worthy), WWT (Wind and Watertight), Refurbished, or As-Is.
There is no defined universal grading system for containers. These are guidelines based on structural conditions, internal paintwork, flooring, and exterior panels.
How Shipping Containers Can be Graded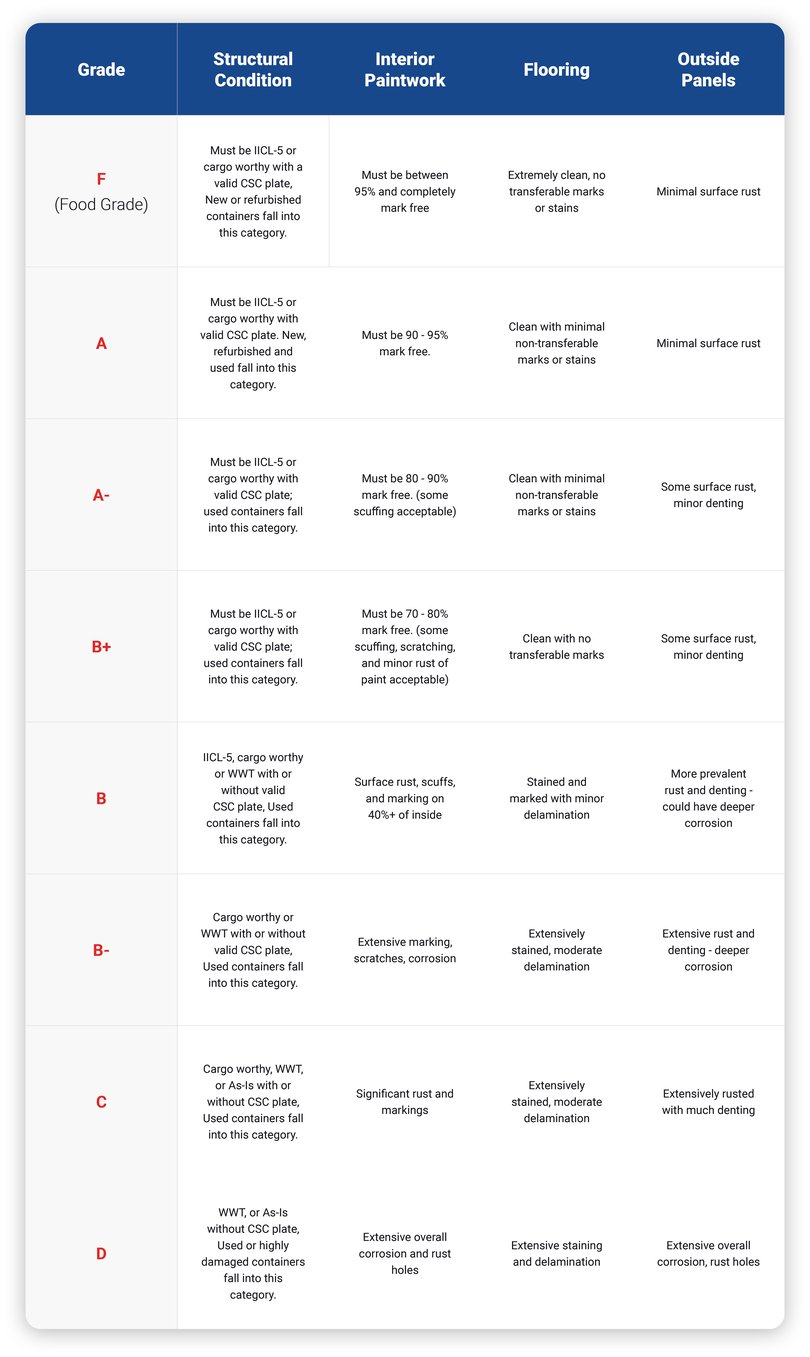 source: Boxman, Guidelines for Grading Container Condition, 2017.
Containers Units for Shipping Cargo
The need for different types of containers comes into play whether you have frozen storage or dry storage. Container units vary by dimension, structure, materials, etc.
Some of the more common shipping containers include dry storage, flat rack, open-top, tunnel, open side storage container, double doors container, refrigerated and insulated or thermal containers.
Dry storage container - most common, and come in various dimensions and meet ISO standards.
Flat rack container - the sides can be folded to make a flat rack.

Open top container - great for shipping those items with height. The top can be removed entirely to add space.

Tunnel container - have doors on both ends, making it easier to load and unload materials.

Open side storage container - provide more expansive room for loading materials as the doors can change into a more significant available entry on the side.
Double doors container - extra door openings, like open side containers, give more access to load and unload your products.

Refrigerated ISO containers

- maintain a designated temperature between -20 degrees and 75 degrees Fahrenheit. They are used for shipping perishables over a long distance.

Insulated or thermal containers - also suitable for long-distance transportation, they offer regulated temperature control to maintain a higher temperature.
Tanks - used chiefly to transport liquid materials. The ISO Tank Container's development has allowed the carriage of all types of products ranging from, but not limited to, portable (food grade) liquids, nonhazardous, and hazardous aqueous materials, including corrosives, explosives, toxins, and flammable.
Conclusion
We understand that storing and transporting food-grade commodities is a risk.
With ChemLINE® protecting your tank, you'll ensure product purity, increase the longevity of your assets, and have industry-leading resistance for high-temperature cleaning practices.
Unlike other commodities, food-grade products require specialized containers and equipment to ensure the integrity of the food throughout the entire transportation process.