Marine propulsion systems move ships through the water, ensures a better safety standard for the marine ecosystem and are cost-efficient. Worldwide goals have been set for emission reductions for the maritime sector.
"The IMO is targeting a reduction in the carbon intensity of international shipping by at least 40% by 2030 compared with 2008 levels, and by 70% by 2050. The IMO took this action to support the United Nations Sustainable Development Goal 13, to take urgent action to combat climate change and its impacts."
As an industry leader in marine cargo tank coatings and filling the increased demand for high-performance tank linings, APC sees first-hand the industry's evolution and the critical role we play in the maritime value chain. This article has incorporated several industry developments and discussions from various sources about adopting new and emerging marine fuels and propulsion system technologies that may offer emission reduction potentials.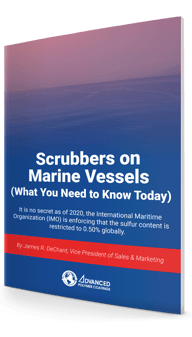 Shifting Trends in Maritime Transportation
Shifting trends in maritime transportation are set to encourage marine propulsion systems industry growth.
So much so,
That the latest Global Market Insights study estimates the marine propulsion systems market to cross $11 billion (USD) by 2026.
The marine propulsion engine market is driven by a need for faster, cleaner and fuel-efficient engines. The next section navigates through the latest and technological developments in the marine engine propulsion market.
Different Types of Marine Propulsion Systems
The set-up of the propulsion system depends on the vessel size, trade, or type of operation.
1. Wind Propulsion
Wind assisted propulsion is the practice of using sails or a type of wind capture device. With the onset of the steam and the diesel engine, sails became more for recreational use.
However,
With increasing fuel costs and the sails ability to help in fuel consumption decrease, there is a renewed interest in using wind power to propel commercial ships. Also, it acts as an alternative to those systems that emit large quantities of carbon dioxide (CO2).
2. Steam Turbine Propulsion
Steam turbine propulsion was used primarily between the years 1800-1950 and involved the use of coal or other steam-generating fuel. With the introduction of diesel engines and gas turbines, the use of steam turbines decreased.
"Due to high maintenance requirements of steam propulsion of the period, commercial shipping companies adopted diesel engines for propulsion as such engines required far less maintenance and much lower maintenance costs than steam propulsion." [source]
3. Diesel Propulsion
Diesel propulsion is the most common system today. It offers greater efficiency than the steam turbine.
4. Gas Turbine propulsion
Gas turbine systems are used mainly in naval ships where the need for speed is critical. Gas turbines are commonly used in combination with other types of engines.
Some warships and a few modern cruise ships have also used steam turbines to improve their gas turbines' efficiency in a combined cycle, where waste heat from a gas turbine exhaust is utilized to boil water and create steam for driving a steam turbine. [source]
5. Nuclear Propulsion
Nuclear propulsion includes a wide variety of propulsion methods that use nuclear reaction as their primary power source. It may provide the most promise concerning fuel cost and performance.
The IMO is considering small nuclear reactors, similar to those that have made the Nuclear Navy so successful. Like the Navy, the big shipping fleets have very large ships requiring a huge amount of fossil fuel. [source]
6. Fuel Cell Propulsion
Electrification through batteries and fuel cells is another type of marine propulsion system.
Fuel cells convert fuel more efficiently than traditional combustion engines, reducing pollution and greenhouse gas emissions. A great example is the "Viking Lady", a green ship specially designed for marine use.
Viking Lady: An Eco-friendly Ship with Fuel Cell Technology
7. Solar Propulsion
These "hybrid powered" ships will use wind and solar power together as a source of energy and propulsion (along with the ship's main engines) to reduce harmful emissions and lower fuel consumption. An on-board solar power array can either mounted on the sails or on deck areas of the vessel (or both). source: Wind and Solar Marine Power
Different types of propulsion systems offer individual advantages. The best system needs to be fitted depending on the requirement and necessity.
Marine Propulsion Systems: More Than Moving Ships Through the Water (Alternative Fuels)
The marine industry is continuously evolving. Since the 1960s, heavy fuel oil (HFO) has ruled the marine environment.
However, its impact on the environment and human health called for a change. The IMO decided to diversify the industry away from HFO into cleaner fuels with less harmful effects on the environment and human health.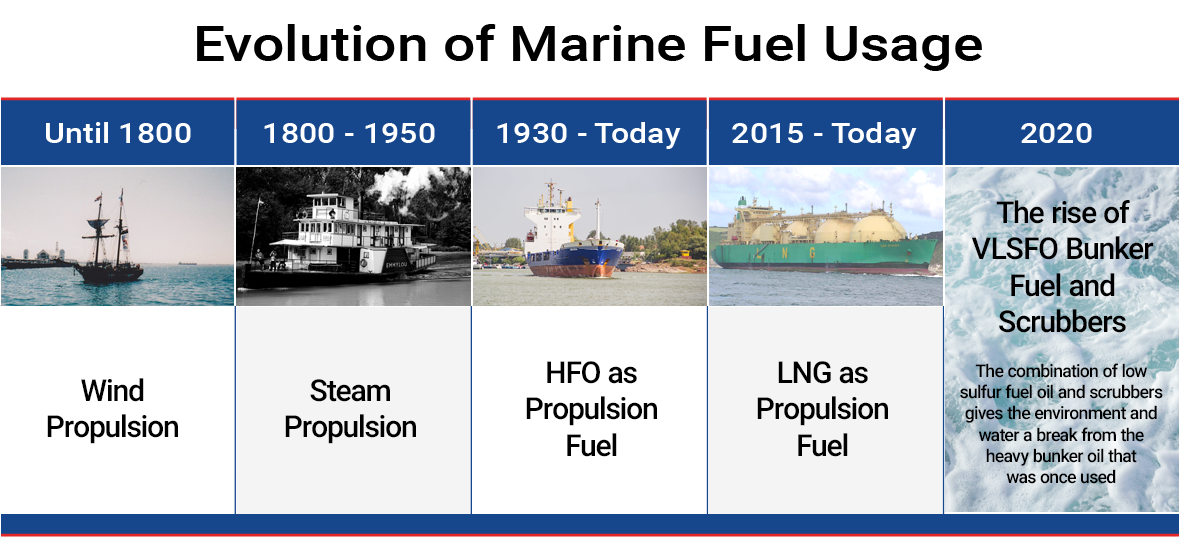 Alternative fuels contain an insignificant amount of sulfur, which is better for the marine ecosystem.
1. Liquefied Natural Gas (LNG)
Liquefied natural gas is a cleaner transport fuel and an alternative marine fuel to high sulfur fuel oil. LNG offers advantages for ships to meet the emission regulations.
The International Council on Clean Transportation cites,
"More and more ships, including container ships and cruise ships, are being built to run on liquefied natural gas (LNG), which emits approximately 25% less carbon dioxide (CO2) than conventional marine fuels in providing the same amount of propulsion power."
2. Liquefied Petroleum Gas (LPG)
Liquefied petroleum gas as an engine fuel has many advantages for marine engines.
The World LPG Association (WLPGA) is clear on LPG's growing applicability to shipping. Its recent LPG Bunkering – Guide for LPG Marine Fuel Supply report found that LPG is a key enabler for The IMO's 2050 regulation, which calls for a reduction in total annual greenhouse gas emissions by at least 50% by 2050 compared with 2008. [source]
3. Methanol as a Fuel
Methanol has become one of the essential trading commodities in the past few years, and growth is expected to accelerate in the future. With the growing demand for cleaner marine fuel, methanol is an alternative fuel for ships that helps the shipping industry meet increasingly strict emissions regulations.
Watch the short video by Methanex on Methanol as a marine fuel that is sustainable and biodegradable for the marine industry and shipping.
Methanol Institute. "Methanol as a Marine Fuel." via YouTube
Relative to conventional marine bunker fuels, methanol reduces emissions significantly. It is also a safe, cost-effective, globally available marine fuel.
4. Green Ammonia as a Combustion Fuel
The IMO is considering a range of long-term zero-carbon fuel solutions, such as ammonia.
A new report by the Danish catalyst company Haldor Topsoe and partners concludes,
"Replacing conventional fuel oil with green ammonia could be a cost-effective way of reducing greenhouse gas emissions from ships. Green ammonia would be a cheaper fuel for the shipping industry than hydrogen made from renewable energy because it is easier to store and can be burned in standard internal combustion engines." [source]
Conclusion
IMO 2020 put forward one of the largest and most prominent challenges in the refining and shipping industries. Shipowners and alike are adapting to the changes.
The marine propulsion engine market is driven by the need for faster, cleaner and fuel-efficient engines. Less carbon-emitting alternatives are preferred since they comply with rules and regulations.
The ability to move swiftly between various cargoes is also important. Selecting the right coating extends the range of cargoes, reduces the time needed to switch them, and delivers the highest return on investment (ROI).
From APC's perspective, tank owners, operators, and lessors looking to gain the maximum versatility and long service life for their assets need to look at a coating system.