Rail tank cars are essential in transporting commodities such as chemicals, food, and the fuel used to power our vehicles. They help us maintain a modern way of life by transporting these commodities. In addition, they allow for the safe transportation of hazardous materials, like ethanol and flammable liquids.
"More than half (54%) of rail tank cars carrying Class 3 flammable liquids in 2020 met new safety requirements, an increase from the 48% in 2019. The 2015 Fixing America's Surface Transportation (FAST) Act requires that, by 2029, all Class 3 flammable liquids are carried in DOT 117 or DOT-117R rail tank cars, which meet new safety standards. The new report measures progress toward this transition."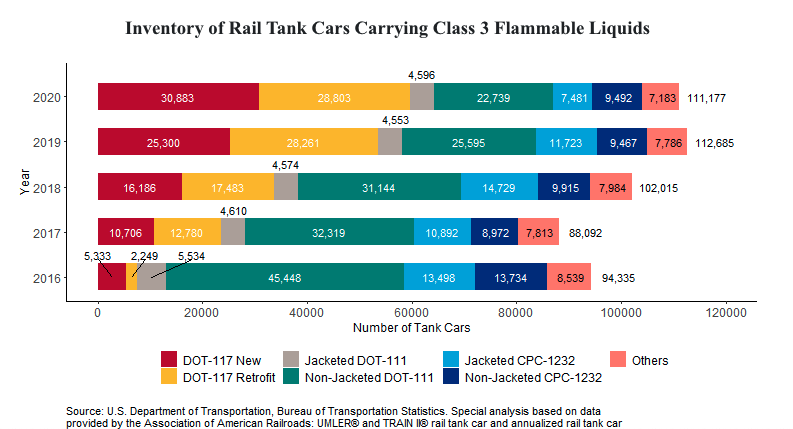 U.S Department of Transportation (Federal Railroad Administration) reports:
"As tank cars are the predominant vehicles for carrying hazardous material shipments, FRA has prepared Tank car guidance materials on maintaining, operating, and securing this rail equipment:"
Ensuring Tank Car Safety
Tank Car Committee Handouts
Suggestions for Effective Railroad Tank Car Loading/Unloading Training Programs
The rail tank car hauled liquids since oil was first discovered in the 1860s. Their characteristics, with their different commodities being transported, make them unique.
We understand the need for impermeable barriers in tank cars in the transportation industry.
As experts with polymer lining technology, we know your coating application needs to be sustainable, durable, and efficient.
Our mission is to provide you with innovative, value-added coatings to protect your assets and safely store and transport your aggressive chemicals.
At APC, we strive to be world-class coating experts for the rail tank car market. With that role comes the responsibility of being intimately familiar with basically everything to do with railroad tank cars. So, we created a new guide to enhance your rail operations. In this new guide, you'll learn who the key players are in the manufacturing of rail tank cars, the lining versatility that accompanies them, safeguarding your tank cars, how one company eliminated "hydrogen grooving," and the future of the market.
Let's get started.
Chapter 1
Rail Tank Cars Timeline
Let's start things off with a quick timeline of the industry.
Railroads and their components constantly evolve and provide customers with a competitive edge in the global economy. From
Wikipedia
and the
Association of American Railroads
, here's a journey of the rail tank cars starting in the mid-1800s.
It's interesting to note the changes in the tank car (specifically regarding safety) from the past to today.
1865:

Charles P. Hatch of the Empire Transportation Company invents the railroad tank car.

Flatcars

with banded wooden planks or decking mounted on top were used for the first time to transport

crude oil

from Pennsylvania

during the

Pennsylvanian oil rush.
1869: Wrought iron tanks, with an approximate capacity of 3,500 US gallons

per car, replace wooden containers.
1888: Tank-car manufacturers sell units directly to the

oil companies, with sizes ranging from 6,000 to 10,000 US gallons.
1903: Tank-car companies develop construction safety standards. More than 10,000 tank cars are in operation.
1915: A classification system is produced by the tank-car industry to ensure the correct match of car type to the shipped product. Approximately 50,000 tank cars are in use.
1930: 140,000 tank cars transport 103 commodities.
The 1940s: Virtually every tank car engages in oil transport supporting the

war effort.
1945–1950:

Welding

replaces

riveting

in car construction (both underframes and tanks) for the major manufacturers, including American Car & Foundry and General American.
1950:

Pipelines

and

tank trucks

competed for the liquid transport business.
1955: Intermodal freight — the movement of containers and highway trailers by rail —
is reported as a separate category of cargo for the first time. In that year,
railroads moved 168,000 carloads of trailers and containers.
1963: The

Union Tank Car Company

introduces the "Whale Belly" tank car.
1980: Congress passes the Staggers Rail Act, reducing the Interstate Commerce
Commission's regulatory authority over railroads and sparking competition that
stimulates advances in technology and a restructuring of the industry. This includes the
creation of hundreds of new shortlines and regional railroads.
2017: U.S. railroads originate 13.7 million intermodal containers and trailers, setting a
new annual record. In 1990, containers accounted for 44 percent of intermodal
traffic. By 2000, the share was 69 percent. In 2017, it was 91 percent.
Containers are generally more efficient than trailers, in part because they can be
"double-stacked."
Basic Types of Tank Cars
All rail tank cars are built to standards and requirements by the U.S. Department of Transportation (DOT) and the Association of American Railroads (AAR).
Railway Supply Institute cites,
"A railcar with a tank for its body consists of a shell and heads together with connections welded directly to it and used to transport liquids, solids, and liquefied gases. By AAR specifications, "tank" means "tank car tank." The head of a tank is one of the end closures. Tank cars may be pressure or non-pressure and are often equipped with special equipment to enhance their usefulness for handling specific commodities. For pressure class tank cars, the tank includes the manway nozzle as well."
There are generally two basic types of tank cars:
1. General-purpose - are non-pressure cars that can be used to carry any kind of material. They can be referred to as general service or low-pressure tank cars.
2. Pressure tank cars transport compressed liquefied gases under pressure and some low-pressure, high-hazard materials. They are built with thicker tanks to withstand higher internal pressures. [source]
Resources:
Chronology of Railroading in America
Chapter 2
Who
Are the Key Players in the Railway Tank Car Market?
If you are in the market to lease a tank car or need services, credentials are everything. What makes a key player in the railway tank car market?
providing value

identifying customer needs

responsibility

and recommendations by

Market watch
The Top Key Players (in no particular order):
1. Trinity Industries - Dallas, TX

Trinity Industries - is a premier provider of railcar products and services in North America. TrinityRail is a leader in the manufacturing, leasing, and maintenance of various railcar product segments, notably tank cars.
2. Greenbrier - Lake Oswego, OR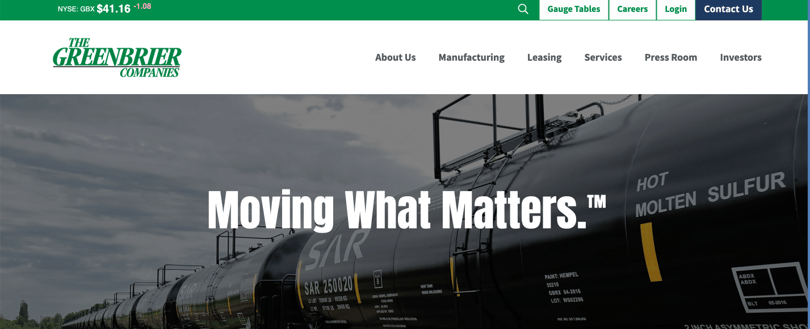 Greenbrier is a leading international equipment supplier and services to the freight rail transportation markets. They "operate an integrated business model in North America that combines freight car manufacturing, wheel services, repair, refurbishment, retrofitting, parts, leasing and fleet management services."
3. National Steel Car - Hamilton, ON

National Steel Car has earned a reputation as North America's leading railroad freight and tank car manufacturer. They are the "only North American railcar company certified ISO 9001:2015."
4. Union Tank Car - Chicago, IL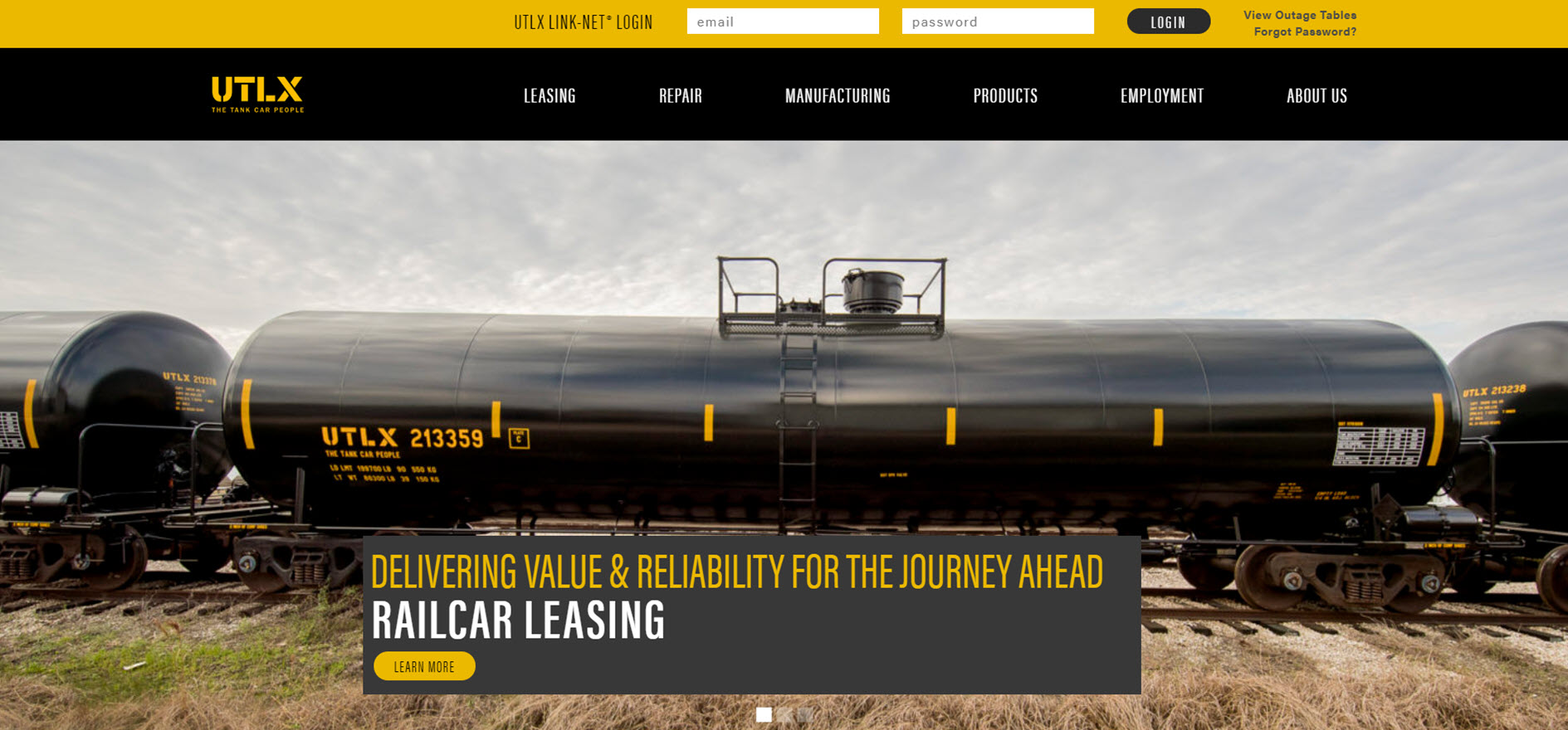 UTLX is the "industry-leading supplier of general-purpose and pressure tank cars and plastics-covered hopper cars for bulk shippers. At Union Tank Car Company's core are railroad tank car leasing, manufacturing, and repair operations."
5. American Railcar Industries - St. Charles, MO

American Railcar Industries offers railcar leasing and services. "ARI will work with you and provide support throughout the railcar lifecycle."
6. GATX Corporation - Chicago, IL
GATX "owns, manages, or is interested in more than 118,000 railcars and over 600 locomotives." They are a leading global railcar lessor.
Chapter 3
What are the Different Types of Freight Cars Today
It's simple, depending on your needs.
It will determine the type of freight car you'll require.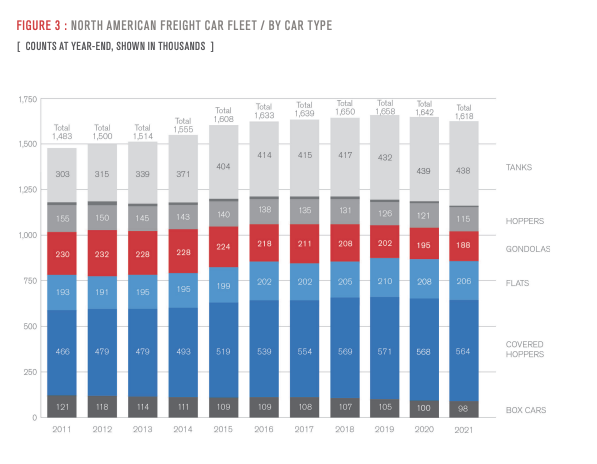 source: North American Railcar Review 2022
The fleet increased slightly, driven by the expansion in covered hoppers and tanks.
Moving on, the different types of rail cars:
Tanks - In 2014, the Railway Supply Institute Committee on Tank Cars (RSICTC) recommended that DOT adopt tank car standards for newly built tank cars assigned to crude oil and ethanol service. Insulation (to maintain the appropriate temperature), thermal blanket (for fire protection), and top fittings (with relief valves) were an effort to revise the tank car standards.
For the protective coatings industry, the thousands of new tank containers entering the
and an opportunity for innovation and improvement within the industry.
resource with images: Tank Car Standard
Hoppers - a type of railroad freight car or container used to transport loose, bulk commodities such as grain or coal. It is typically a container that tapers downward and can discharge its contents at the bottom.
Gondola - is an open-topped rail vehicle also used for transporting loose bulk materials. "Because of their low sidewalls, gondolas are also suitable for carriage such high-density cargoes as steel plates or coils or bulky items such as prefabricated sections of rail track." [source]
Flats - is a piece of railroad rolling stock that consists of an open, flat deck mounted on a pair of trucks, one at each end containing four or six wheels. Flatcars are used for loads too large or clumsy to load in enclosed cars such as boxcars.
Covered Hoppers - equipped with a roof, are used as a hopper. The only difference is that the cover protects the loads from the weather.
Box Car- is a railroad car enclosed and generally used to carry freight. The boxcar is probably the most versatile since it can carry most loads.
The longevity of assets is crucial in the profit margins for tank container operators and lessors. Especially for tank containers carrying aggressive cargo, a high-performance lining system is critical to prevent corrosion and extend the container's lifetime.
Chapter 4
Lining Versatility for Rail Tank Cars to Enhance Operations
The most discussed high-performance coating feature is lining versatility for owners, operators, and lessors of rail tank cars
.
So if you want to improve your lining performance, this section is for you.
How best can lining versatility be explained?
In essence, a lining can internally protect the tank asset against corrosion and degradation from the broadest range of chemicals, including aggressive acids, alkalis, solvents, CPPs, and edible oils, and easily switch between these cargoes after cleaning and decontamination.
Tank lining is applied to a tank to protect the substrate material from a chemical attack. As a provider of
industrial coatings
, we provide a suitable coating for your needs.
Consider one lining capable of transporting such varied types of cargo — from concentrated 98-percent sulfuric acid to hot crude/crude water mixtures, sodium compounds, or food-grade shipments. This lining versatility is what rail transport operators consider the holy grail of performance: a lining that can maximize the use of their rail tank car assets and enhance profitability.
Choosing the Right Lining for Rail Tank Cars
There are many different linings and liner materials on the market today. Each one has vital attributes that make it worthwhile. However, most of these linings can only handle limited cargo types, as they are not engineered for a broader range of chemical services.
Lining choices include rubber, neoprene, Teflon, high-bake phenolics, epoxy amines, epoxy polyamides, novolac epoxies, and high-performance, polymer-based linings. One of these linings is often specially selected to provide convenient service for specific cargo, but that particular lining can limit the broader use of the transportation unit. For example, a rail car lined with a coating resistant to crude oil may not work for other commodities.
To handle multiple cargo types, rail tank car owners, operators, and lessors should consider versatility in lining selection. A highly impermeable lining that can carry different cargoes allows for easy cleaning of the transportation unit and the flexibility to change shipments of varying types as market conditions change, maximizing asset utilization and revenue streams.
According to industry studies, the top seven most frequently carried cargoes in rail tank cars are, from most to least:
petroleum/crude
ethyl alcohol
sodium compounds
petroleum by-products
LPG
sulfuric acid 93-100 percent
Other products carried can include:
• high-fructose corn syrup (HFCS)
• superphosphate
• sulfur liquid/molten
• soybean oil
• petroleum lubricating
• nitrogen fertilizer
• organic acids or salts
• benzene/toluene/other cyclic
• chemical products
• hydrochloric acid
• industrial inorganic acids
• fatty acids
Safe carriage of all these chemicals hinges on selecting the correct tank lining.
When choosing the optimal rail tank car lining for transporting a wide range of chemicals, many factors should be considered.
For tank owners, operators, and lessors to gain the maximum versatility and long service life for their assets, they need to look at a coating system. The system should handle the broadest range of transport chemicals and have superior chemical resistance and product purity. It needs to clean quickly and is a proven performer in the transport market.
Chapter 5
Top Considerations to Safeguard Rail Tank Cars
Various factors influence the lining selection for transportation equipment — whether it's a truck tanker trailer, rail car, barge, or product tank container — but the most important factor is knowing all the different types of cargo carried. Several performance features help determine the versatility of a lining and consideration in selecting any rail tank car lining.
Using APC's polymer-based
ChemLINE®
coating as an example, we outlined vital considerations for making the decision.
1. Chemical Resistance to Exposures and Temperatures
Can this tank lining truly handle a wide range of cargoes, not just in one class or one type of chemical?
The lining must handle the entire range of chemical exposures and temperatures that the tank car may carry during its service life.
ChemLINE®
coating meets this criterion with resistance to more than 5,000 chemicals and thermal shock resistance from -40 F to 350 F (-40 C to 176 C). Its formulation is based on a chemical matrix that crosslinks an organic polymer and an inorganic polymer with high multi-functional capability.
The result is a three-dimensional ladder-like structure where high crosslinking is achieved by forming ether groups C-O-C (carbon oxygen-carbon), one of the strongest linkage bonds in chemistry. This technology eliminates high hydroxyl groups (found in phenol epoxies) and precludes the formulation of ester groups subject to hydrolysis and acid attack.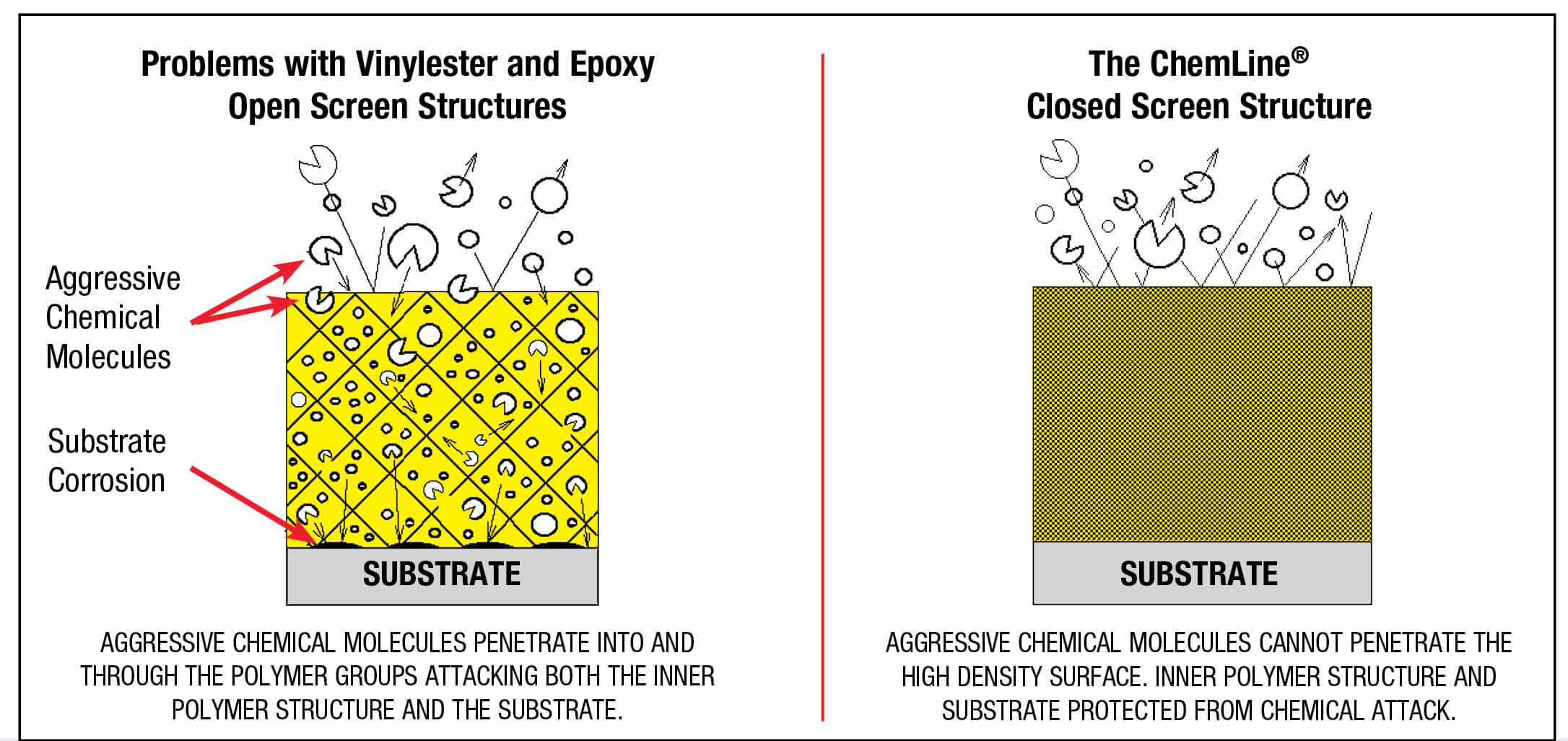 (Left) Aggressive chemical molecules penetrate into and through the polymer groups attacking the inner polymer structure and the substrate. (Right) Aggressive chemical molecules cannot penetrate the high-density surface. Inner polymer structure and substrate are protected from chemical attack.
APC engineered chemistries to enhance crosslinking capability (number of crosslinks per unit of volume) into a very tight structure with high chemical and high-temperature resistance. The patented formula allows the
ChemLINE®
coating to effectively withstand a wide range of chemicals with virtually no cargo absorption and with resistance to 98 percent of all corrosive acids, alkalis, solvents, gases, and materials at various temperatures.
2. Food-Grade Approval for Safety (GRAS)
Can the lining handle food-grade cargoes?
The lining should be FDA-compliant and BPA-free. Also, various food and beverage producers may even have additional criteria and requirements. For example,
ChemLINE®
is generally recognized as safe (GRAS).
3. Product Purity to Reduce Cargo Contamination
Can the lining resist permeation (absorption) from its cargoes to virtually ensure outstanding product purity?
Again, this is possible for specific linings specializing in carrying particular cargoes; however, versatility is sacrificed if the goal is to carry a broader range of cargoes. Several independent lab tests found APC's linings offered high chemical resistance with near impermeability and superb corrosion protection, significantly reducing the risk of any cargo contamination.
4. Easy Cleaning for Faster Return to Service
Does the lining clean easily and quickly?
ChemLINE's®
high crosslinking creates a nearly impermeable, hard, and ultra-smooth surface with low surface energy that allows tanks to be cleaned more quickly than conventional tank coatings. The lining is steam cleanable, making it simple to remove any residue and decontaminate the tank surface so cargoes can be easily switched. The tank asset can return to service faster.
5. Proper Application to Deliver Abrasion-Resistant Solution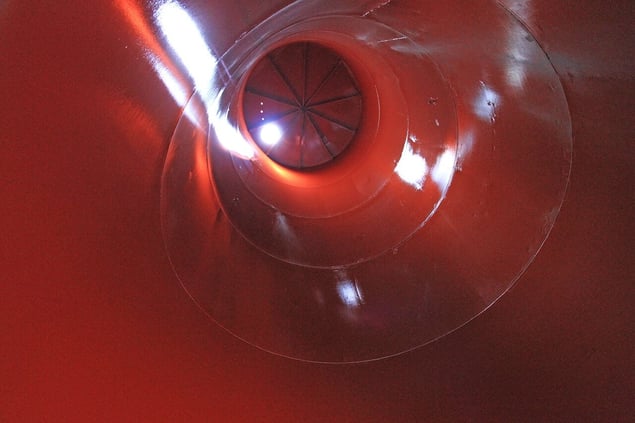 I
nside of a (retouched) tank
When benchmarking what a versatile coating needs to be, check into the application and curing recommendations, environmental considerations, lining performance, and toughness.
ChemLINE®
is a high-volume-solids content (85 percent) lining with low VOCs — durable yet flexible enough to be crack resistant. The lining can be applied in a single coat using plural-component spray equipment to achieve high-film-build dry-film thickness from 10 to 12 mils. The lining is then low-temperature forced-air cured to enhance crosslinking chemistry, producing high chemical and corrosion resistance. This offers a sturdy, abrasion-resistant solution to withstand the rigors of transport, cleanings, and mechanical damage.
6. Proven Field Performance for Best Results
How do the linings being considered to perform in different conditions and environments?
Ask your coatings provider for case histories in myriad services. See how the linings have performed in transport equipment — from rail tanks and hopper cars to tanker trucks, barges, and bulk tank containers.
Ask what chemicals they have carried and at what temperatures. (Note: APC can provide many case studies and real-world examples of cargo sequencing for its linings.)
Chapter 6
Rail Tank Car Application [Case Study]
So here's the deal:
It's time to look at the results:
In this section, you'll see how Solvay USA went from hydrogen grooving to an internal tank corrosion protection in a few days with their rail tank cars swiftly put back into service.
Case Study
How Solvay USA used ChemLINE® to Extend the Service Life of its Rail Tank Cars
Solvay USA Inc. is a world-leading producer of essential chemicals, including 99+% sulfuric acid and other products.
Problem: a corrosion problem with rail tank cars carrying 99+% sulfuric acid and spent alkylation sulfuric acid.
Corrosion occurs when sulfuric acid produces hydrogen gas. As the gas moves upward in the rail car, it erodes the steel surface, causing a grooving pattern. Unlined tank rail cars are not usually retired from service due to uniform corrosion but deep hydrogen grooving.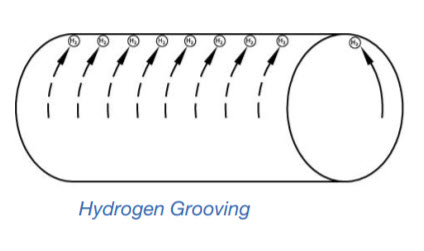 The tank cars were brought to Seaboard Railcar Repair in Hugo, OK, where an inspection showed some pitting and other problems.
Solution:
1. Seaboard prepped the internal surface through grit blasting to clean out contaminants and pitting, grinding the sharp edges caused by grooving, and repairing areas as needed. The tank cars would be structurally suitable for the application.
2. Next, a grey base coat of ChemLINE® 784 ES (formerly named ChemLINE® 784/32) was applied, followed by a red topcoat. The tanks were then forced hot air-cured, per the coating manufacturer's specifications.
The ChemLINE® 784 ES's higher cross-link density means:
Higher chemical resistance
Higher temperature resistance
Higher reactivity at a lower temperature
Higher resistance to absorption
Higher toughness
3. The rail tank cars were put back into service within a few days.
One year later, at inspection:
The inspection showed that the overall condition of both rail tank cars was excellent, with the lining intact with no corrosion or grooving observed.
Result: Significant increase in the service life of Solvay USA rail tank cars with ChemLine®
784 ES which will provide tremendous cost savings.
Read the entire case study: Solvay USA uses ChemLINE® 784 ES (784/32) for Sulfuric Acid Service in Rail Tank Cars.
Chapter 7
Future Rail Tank Car Market Outlook
Freightwaves reports:
"There are three broad railroad tank car markets – chemicals, crude oil, and selected agricultural commodities. Across North America, the number of tank cars in the fleet increased from ~300,000 in 2009 to ~432,000 in 2019."
The chemical tank car market comprised roughly 13% of the carloads of rail traffic moved during 2019. Heavy crude oil shipments into the U.S. were the largest crude oil market segment, with approximately 54,000 monthly carloads total.
Railroad tank cars are used to move grain-based energy (ethanol). Railroads move more than 60% of the U.S. ethanol traffic. [source]
The market at this time is uncertain, given the start of 2020. Rail freight will probably continue to remain flat, but time will tell.
Railway Age curated a summary of key takeaways from speakers at REF (Rail Equipment Finance) 2019 that had some insight (before COVID-19). The industry is still faced with challenges, but time will tell. There is hope for market improvement after an overall economic recovery.
resource:
Conclusion
We hope you enjoyed our guide to rail tank cars.
To ensure greater flexibility in the range of chemicals that can be handled by one tank, consider a universal lining. Extensive testing and field experience have shown that ChemLine® successfully protects tanks against more chemicals and environmental influences than stainless steel, phenolic epoxies, and other conventional coatings.
ChemLine® can save you tens of thousands of dollars in labor, materials, and repairs to avoid the need to re-coat and preserve the integrity and longevity of your tanks and the purity of the contained chemicals.
With a top-quality tank lining, you will create an impermeable barrier and prevent costly issues.