The industry will become more environmentally friendly by regulation. The International Maritime Organization has proposed a 2020 Sulfur limit on the exhaust from the stacks of ocean-going ships. The IMO has called for ships to produce about 85 percent less sulfur by the end of next year, and to halve their total greenhouse-gas emissions by 2050.
The shipping industry is dynamic, and the growing demand for tank containers and the urgency to take measures for reducing the carbon footprint is substantial. The increasing standards made by the IMO have triggered research and development of "green" technology for the shipping industry. The shipping industry has to create and apply innovative measures in order to comply with the new regulations.
As an industry leader in marine cargo tank coatings, and filling the increased demand for high-performance tank linings, APC sees first-hand the evolution the industry is experiencing and the critical role we play in the maritime value chain. In this article, we have incorporated a number of industry developments and discussions from various sources about the value of a green ship and potential strategies to increase energy efficiency and decrease sulfur oxide (SOx).
But first...
What is Green Shipping / Green Marine?
The environment must be considered in all the details of shipping, from a build of a new vessel through its decommissioning. The International Maritime Organization (IMO) is helping to reduce the impact on the marine industry by regulating exhaust emissions, anti-fouling, ballast water, and more.
Carbon emissions and other gases are caused by the burning of fuels in the environment. A green ship would leave the least amount of carbon emissions. "Green ship" is a name given to any seagoing vessel that contributes towards improving the present environmental condition in some way. Green ship technology adopts procedures to decrease emissions, consume less energy, and be more efficient.
Green Marine, a voluntary environmental certification program for the North American marine industry, addresses key environmental issues in regard to air, land, and water pollution. They offer a plan for maritime companies to reduce their overall environmental footprint.
Resource: Green Ship Design for Ship Building
Cutting Sulfur Oxide Emissions to Improve Air Quality
The International Maritime Organization is taking action to clean up shipping emissions by reducing the sulfur content in ships' fuel oil. In response, the shipping industry started considering several solutions, including low Sulfur fuel oil (LSFO), marine gas oil (MGO), liquid natural gas (LNG) and even burning the current fuel and having scrubbers on the exhaust stacks.
The IMO will require that all fuels used in ships contain no more than 0.50 percent sulfur.
"Public health experts estimate that once the 2020 sulfur cap takes effect, cleaner marine fuels will reduce ship-related premature mortality and morbidity by 34 and 54%, respectively, representing a ~ 2.6% global reduction in particulate matter 2.5 /PM2.5 cardiovascular and lung cancer deaths and a ~3.6% global reduction in childhood asthma."

[source: Cleaner fuels for ships provide public health benefits with climate tradeoffs]
As the infographic by the International Maritime Organization illustrates below, new emission regulations taking effect in 2020 will have a significant impact on health and the environment.
IMO 2020 - A Breath of Fresh Air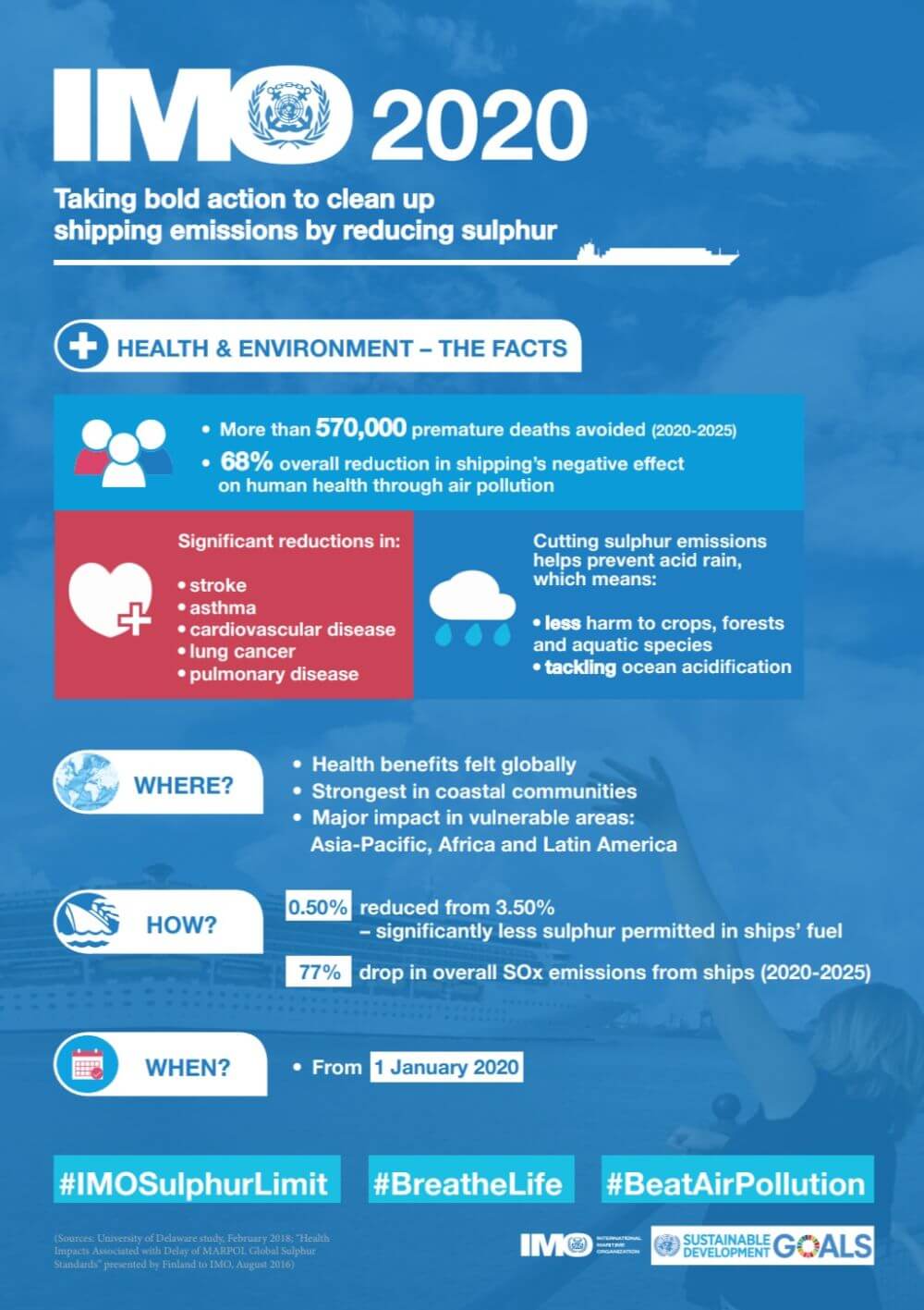 source: Sulfur 2020 - Cutting Sulfur Oxide Emissions
Ballast Water and Steps Needed to Reduce Hazards Associated With It

What is Ballast Water?

Ocean-going ships take on ballast water to maintain stability when traveling through water. Ballast tanks provide adequate stability to vessels at sea. It allows vessels to carry a light or heavy load while maintaining ideal buoyancy.

However,

Organisms and pathogens found in ballast water and sediments in ballast tanks have had an economic and ecological impact on marine biodiversity in many regions. The IMO is introducing regulations on several topics to reduce the impact of the marine industry on both the sea and atmosphere, ballast water being one.

The video below gives a quick overview of the ballast water cycle.

Marine Online, What is Ballast Water, via YouTube. November 24, 2016

What is a Ballast Water Management Plan?

According to

Marine Insight,

the

global community, under the administration of

IMO,

has adopted the "

International Convention for the Control and Management of Ship's Ballast Water and Sediments, 2004.

" The convention is intended at stopping the introduction of superfluous aquatic organisms and pathogens through the discharge of ballast water and sediments.




The requirements of IMO Resolution A.868 (20) are:
All officers and crew involved in ballast water management to receive proper training

All ships to minimize the transfer of harmful aquatic organisms and pathogens

All ships to develop and follow a ballast water management plan

All ships to record all ballast operations
Additional resource: Everything you wanted to know about Ballast Water Exchange and Management Plan
16 Green Shipping Solutions to be Compliant
The shipping industry is responding with strategies to go "green." As IMO 2020 is fast approaching, shippers have some strategies prepared in order to become compliant.
Some are ready to implement immediately. Other strategies as presented by various industry sources are in the infancy phase.
1. Switch to Low-Sulfur Fuel
The move to lower sulfur content allows for the application of advanced emissions control technologies that substantially lower the harmful emissions from diesel combustion. [source: Ultra-low-sulfur diesel: ULSD]
Ships will be compliant by using low-sulfur fuel oil.
2. Slow Your Travel Time
Large ships might burn 280-300 metric tons of high-sulfur fuel oil (HSFO) a day at high speeds, but only 80-90 metric tons a day at slower speeds. Slower travel may cut costs and help reduce emissions. [source: IMO 2020: The Big Shipping Shake-Up]
3. Incorporate a Ballast-Free System
Move towards a ballast-free system. Ballast water brings unwanted species. A ballast-free ship would reduce the potential hauling of contaminated water. Limiting the amount of ballast taken is the first step in an effective ballast management plan.
4. Use LNG Fuel for Propulsion
LNG fuel helps in the reduction of air pollution. A small percentage of cargo ships are expected to run on liquefied natural gas (LNG), a fuel that has only recently advanced in the marine market. Replacing heavy bunker fuel with LNG would reduce SOx and nitrogen oxide emissions by 90 to 95 percent and curb carbon dioxide emissions by 20 to 25 percent, according to industry estimates.
Read more: LNG as ship fuel: perspectives and challenges.
"LNG promises a good environmental performance compared to conventional ship fuels." Since this type of fuel is natural gas in a liquid state, it is cleaner and more eco-friendly.
Additional resource: New Marine Fuel Rules to Spur Green Shipping with LNG
5. Implement an Exhaust Scrubber System / Sulfur Scrubber System
The system is geared towards reducing sulfur or capturing sulfur before it escapes through the exhaust funnels. Bloomberg NEF estimates some 4,800 vessels will be scrubber-equipped by 2025.
How the Cargo Industry Is Cleaning Up Its Act
6. Use Speed Nozzles to Save Fuel
Speed nozzles improve the propulsion efficiency of the ship by saving power. By using speed nozzles, as opposed to traditional methods such as Kort nozzles to power your ship, you are saving fuel by approximately 5%.
7. Apply the Best Anti-Fouling Hull Paint
Anti-fouling paint (bottom paints) helps slow the growth of organisms that attach to the hull.
The condition of the hull (smooth hull) is essential in fuel efficiency. The speed of a ship decreases as its hull becomes infringed with marine growth. Applying correct paint at the right hull area can reduce the frictional resistance of the ship resulting in 3-8% of fuel savings.
8. Have a Proper Waste Heat Recovery System
Waste heat recovery systems are becoming more eco-friendly. They will help reduce fuel consumption by converting the waste heat from the exhaust gases into steam. The steam can be used in other capacities, such as heating cargo area.
9. Use Wind Energy with the Sail and Kite Propulsion System
The sail and kite system will use wind energy to move a ship through the water. According to Marine Insight,
"The specific towing kite is made in such a way that it can be raised to its proper elevation and then brought back with the help of a 'telescopic mast' that enables the towing kite to be raised properly and effectively."
This will help reduce fuel consumption and decrease NOx, SOx, and CO2 emissions.
10. Exhaust Gas Re-circulation System
In internal combustion engines, Exhaust Gas Recirculation (EGR) is a nitrogen oxide (NOx) emissions reduction technique used in gasoline and diesel engines. EGR works by recirculating a portion of an engine's exhaust gas back to the engine cylinders.
According to EGCSA,
"A proportion of the exhaust gas from the main engine exhaust receiver is recirculated to the scavenge air via a dedicated closed loop scrubber which removes damaging contaminants (PM, sulfur oxides, etc.)." [source]
11. Streaming Bubbles
Streaming bubbles out of tiny holes in a ship's underbelly can help to slice more cleanly through the water. According to Samsung, the technology can cut fuel consumption by 4 or 5 percent.
12. Submarine R

obot Cleaners to Improve Fuel Efficiency
Grasses and other organisms grow on the hull of ships. Robot cleaners are able to strip away debris and improve fuel efficiency. By removing barnacles that attach themselves to the ships' hull can decrease a vessel's fuel consumption by as much as 20 to 40 percent.
13. B

attery Boats
"In Norway, where the government wants two-thirds of all ferries carrying passengers and cars along its Atlantic coast to be electrified by 2030, Kongsberg Gruppen ASA is offering battery-powered ship engines and developing a short-haul electric container vessel." [source]
14. Rotor Sails to Harness the Wind
A.P. Moller-Maersk A/S is considering using a modern version of the old-fashioned sail to help power its ships. The sails could potentially replace 20% of the ship's fossil fuels, according to Norsepower Oy Ltd., which makes them. The spinning cylinders harness wind power to propel a ship.
Norsepower Rotor Sail Solution, Norsepower LTD via YouTube, February 17, 2017
The rotor sails can be used with new vessels or retrofitted to existing ships.
15. Reduce Fuel With More Efficient Steering Gears
According to Biofriendly Planet, there are two types of steering gears that are both eco-friendly and cost-effective: hydraulic and electro-hydraulic gears.
"The steering gears work by developing hydraulic pressure through the use of hydraulic pumps which are mainly driven by electric motors or sometimes through purely mechanical means. This pressure then triggers the necessary rotary movements in the rudder system allowing for a ship to turn safely.

By using one of these two efficient steering gears, you can help reduce your ship's overall fuel consumption by approximately 4% on any given voyage."
16. Use Cargo Tank Coating with Improved Cleaning Capability
From APC's perspective, using the right cargo tank coating in a chemical tanker can have a positive impact for a green ship. APC's MarineLINE® cargo coating produces an ultra-smooth surface so tanks can be cleaned faster, and use less fuel for heating, thus reducing fuel consumption and emissions.
In Summary
The IMO 2020 emissions standards are fast approaching. It is designed to protect the environment and curb pollution produced by the shipping industry. The demand for IMO-compliant products will continue to rise. Ships owners can reduce their sulfur emissions by implementing "green" strategies now.
The ability to move swiftly between various cargoes is also important. Selecting the right coating extends the range of cargoes, reduces the time needed to switch them, and delivers the highest return on investment (ROI). As a quality, premier coatings solutions provider, we provide innovative, value-added coatings for the protection of your assets.