Chemical transportation is an essential part of the chemical supply chain.
However,
If not handled properly, transporting hazardous chemicals can be a risk to people, communities, and the environment. Knowing the hazards associated with chemical transportation, APC offers ways to store, protect, and transport aggressive chemicals safely.
In this article, we discuss how toxic chemicals should be stored, the primary hazard of unstable substances, and a checklist for transporting hazardous chemicals.
1. What You Need to Know About Hazardous Chemicals
OSHA cites,
"A hazardous chemical, as defined by the Hazard Communication Standard (HCS), is any chemical that can cause a physical or a health hazard. This determination is made by the chemical manufacturer, as described in 29 CFR 1910."
Statute, standards, and regulations set OSHA requirements.
A substance is defined as hazardous if it has one or more of the following characteristics:
Flammable - quickly sets on fire
Corrosive (tending to cause corrosion) - The definition of corrosion is the gradual destruction of materials or properties due to a reaction with their environment.
Toxic - a toxic

substance is a substance that can be

poisonous

or cause health effects.
Reactive -

tending to react chemically.
According to the Federal Motor Carrier Safety Administration (FMCSA), dangerous materials are classified as follows...
Class 1 Explosives
Class 2 Gases
Class 3 Flammable liquid
Class 4 Flammable solid
Class 5 Oxidizing substances
Class 6 Poisonous (toxic) & infectious substances
Class 7 Radioactive material
Class 8 Corrosive substances
Class 9 Miscellaneous dangerous goods
2. Safe Storage is the Only Storage Today
How should toxic chemicals be stored?
There are several ways or best practices for the safe storage of hazardous chemicals.
Ensure a safe design, location, and installation of storage and handling systems (e.g., tanks)
Separate incompatible substances to prevent reactive chemicals from interacting
Maintain appropriate safety signage with labels and placards
Placarding Requirements:
Each "bulk packaging, freight container, unit load device, transport vehicle or rail car containing any quantity of a hazardous material must be placarded corresponding to the hazard class of the hazardous material being transported. And each must follow design and placement requirements." [source]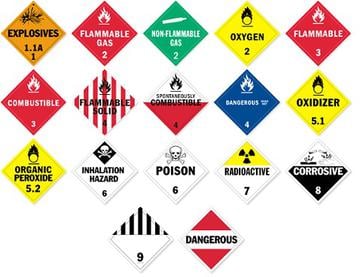 By Source (WP: NFCC#4), Fair use, https://en.wikipedia.org/w/index.php?curid=39171373
Be prepared for spill containment and have clean up systems
Have

an

emergency plan

in place to deal with an incident involving the hazardous chemicals
Have the appropriate

personal protective equipment (PPE)
Have easily accessible fire-fighting equipment
Secure chemicals from unauthorized access
Protect storage tanks with a high-performance coating
The right criteria must be considered when selecting a coating to provide the most cost-effective corrosion protection. If an appropriate liner is not chosen and applied, contamination of the stored product and deterioration of the tank becomes more likely.
3. Transportation of Hazardous Chemicals
Transporting chemicals and hazardous materials requires a process that must comply with strict federal, state, and local regulations. The method also demands choosing the right coating powerful enough to stop corrosion, ensure cargo purity, and maximize your uptime.
Who regulates hazardous material transportation?
The Hazardous Materials Transportation Act (HMTA) is the principal federal law regulating the transportation of hazardous materials in the United States.
Its purpose is to "protect against the risks to life, property, and the environment that are inherent in the transportation of hazardous material in intrastate, interstate, and foreign commerce" under the United States Secretary of Transportation authority.
4. Hazards and Prevention When Carrying Chemicals
There are different modes of transportation in the industry and each requires safety standards when transporting chemicals. We pulled together a checklist for each mode of transportation.
Over the Road Transport Hazards
Possible causes of accidents:
Overturning, overfilling, poor maintenance of the vehicle, inadequate inspection, lack of proper training
Prevention:
Inspect the vehicle's general condition, including tires, condition of valves, electrical wiring, adequate sealing, condition of wipers, headlights, signal lights, etc.
Provide fire extinguishers
Note whether the previous load was the same product or different
Note if the tank was cleaned properly
Have an emergency kit readily available with safety goggles, chemical information sheets, and more
Rail Transportation of Dangerous Materials
Possible causes of accidents:
Derailment, collisions, lack of proper inspection and maintenance, use of unfit equipment and tank cars
Prevention:
Adequate labeling of hazardous cargo
A full inspection of the rail
The load is the appropriate size
An emergency team is readily available
Rail routed through unpopulated areas
The tanks should be lined if corrosive substances are involved
Transportation of Hazardous Chemicals by Water
Possible causes of accidents:
Lack of proper inspection and maintenance, inadequate training of operating personnel
Prevention:
Suitable hull design and venting
Strict navigational safety
Proper emergency response procedures
Proper cargo tank coating engineered to help handle aggressive chemicals and maintain cargo purity
Source: Transportation of Hazardous Substances
5. Checklist: Safety Precautions for Transportation and Storage of Hazardous Chemicals
1. Avoid Transporting Hazardous Chemicals With Food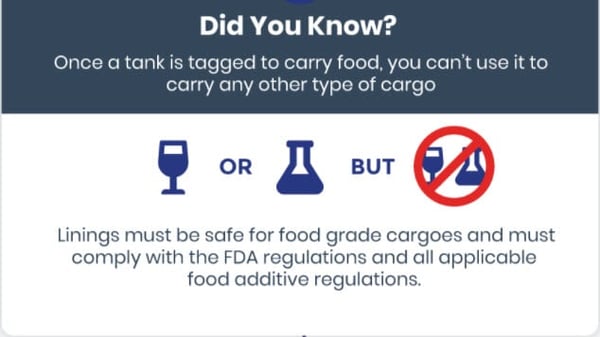 Once a tank container is tagged to carry food, you can't use it to transport any other cargo type.
The Federal Food, Drug, and Cosmetic Act (FDA) requires regulations for the sanitary transportation of food by shippers and carriers by motor or rail vehicle. To prevent food safety problems, here are a few guidelines to adhere to:
Proper refrigeration or temperature control
Adequate management of storage facilities used during the transport
Proper loading and unloading practices (includes sanitation of all equipment, and the transportation of mixed loads that increase the risk for cross-contamination)
Monitor the cleanliness and condition of the vehicles
Excellent communication between the shippers, transporters, and receivers
The responsibility for keeping food safe falls largely on those who transport the goods. The ultimate goal is to ensure consumers have access to safe food.
2. Follow the Dangerous Goods Segregation Rules for Carrying Mixed Classes of Hazardous Chemicals
Incompatible dangerous goods should not be transported or stored together. Chemicals must be separated when being stored to ensure incompatible chemicals do not mix if there is a spill.
Store
incompatible substances
separately.
Poor storage of dangerous goods can create risks as in fire and explosion from reactions. S
toring flammable materials in suitable containers away from
ignition sources
will decrease the risk.
ChemSafetyPro shared an article about dangerous goods segregation and how to get necessary information to determine whether you should transport or store hazardous material together with other hazardous substances.
According to ChemSafetyPro, the general principles of dangerous goods segregation include:
Hazardous materials of the same class usually may be stowed together (unless known chemical reactions)

Strong acids are incompatible with a strong alkali
Class 4.3 materials should be separated from all containers of aqueous (water-containing) solutions, even if the solutions are not dangerous goods.

Class 5.2 organic peroxides and highly pyrophoric class 4.2 goods are highly reactive. They are recommended to be stored in separated detached buildings.

Class 6.1 toxic substances shall be separated from all foods or feeds.

Some explosives (unstable,1.1, and 1.2), infectious substance (class 6.2), and radioactive materials (class 7) are usually deemed incompatible with all other dangerous goods.
Class 9 dangerous goods are usually deemed compatible with all other dangerous goods.
Source: Dangerous Goods Segregation Table and Principles
3. Secure Chemicals Against Movement on Transportation Vehicles
Handling and transporting hazardous materials can be risky.
Proper loading and securing will help eliminate some of the risks. Brace all containers so they can not fall, slide, or bounce around during transportation.
4. Keep a Record of the Substances You are Carrying
Shipping papers and written emergency instructions are critical for safety. Follow the manufacturer's instructions on the safety data sheet when storing chemicals.
5. Confirm You Have the Required Signs and Proper Labeling (Placards and Markings)
Hazardous materials must be appropriately labeled to avoid health and safety problems.
What You Can Find on a Warning Label...
Name of the chemical
Manufacturer
Chemical code number
The danger level of the chemical: "Warning," "Caution," or "Danger."
If the chemical is highly toxic, it should be noted as poisonous.
Any physical hazards such as flammable, explosive, corrosive, etc.
Maintaining compliance with Dangerous Goods regulations doesn't stop with packaging and labeling. Shippers need to be aware of placarding requirements before putting their shipments into commerce.
Placards are standard hazmat identifiers, designed to meet individual specifications, and placed on outer containers, trucks, cylinders, or other vehicles used for transport.
"The Department of Transportation (DOT) mandates that Hazmat Placards be used when transporting hazardous materials and dangerous goods in the United States. These DOT Placards and Hazardous Materials Placards have numbers on them noting specific chemicals or groups of chemicals being transported." [source]
The most popular hazmat labels are Flammable Liquid, Corrosive, Miscellaneous Dangerous Goods, Toxic and Flammable Gas.
"If you've traveled the highways, you've seen trucks, tankers, and rail cars with the distinctive square-on-point placards that indicate the presence of Dangerous Goods (DG) on board."
An infographic from LabelMaster provides a brief overview of the regulations governing the use of placards on trucks and trains.
6. Have an E
mergency Team of Specialized People
Having procedures in place and teams to handle emergency leaks is invaluable.
The first step if a spill occurs is communication and determination. Evaluate the risks and potential impact.
7. Include a Method of Corrosion Control in Roads and Rail Transport
Polymeric linings are essential for protecting the integrity of any vehicle from chemical attack when storing highly corrosive and damaging chemicals.
Just as vital as the linings are the protection of the areas in and around and underneath tanks, including concrete tank pads, flooring, secondary containment and wastewater areas.
Use a secondary containment system such as a drip tray or bund (a storage area designed to prevent liquids from escaping). The storage area must be able to withstand spills and splashes, and tank leaks from aggressive chemical exposures, including strong acids, alkalis, gases, solvents, and oxidizers, to prevent migration into the concrete surfaces.
Conclusion
To ensure greater flexibility in the range of chemicals that can be handled by one tank, it is wise to consider a universal lining. Extensive testing and years of field service have shown that the ChemLINE® system protects tanks against more types of chemicals and environmental influences than stainless steel, phenolic epoxies, and other conventional coatings.
Avoiding the need to recoat while preserving the integrity and longevity of the tanks and the purity of the contained chemicals — can save tens of thousands of dollars in labor, materials, and repairs.
Featured image: Photo by Marcin Jozwiak on Unsplash